Designed for Industrial use, the Kane 988 can measure up to 8 gases simultaneously. Supplied with Carbon Monoxide, Oxygen, Hydrocarbon and Carbon Dioxide measurement capability with the flexibility of adding NO, NO2, SO2 and H2S sensors for your application.
Handheld with also enough size to accommodate more sensors. These advanced sensors provide true gas measurements rather than calculated measurements and come complete with more extensive measuring ranges: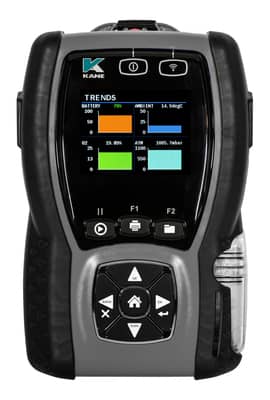 O2 0-21%
CO 0-10,000ppm H2 compensated and with over-range protection
CO 0-10% 100,000ppm
HC 0-5,000ppm
CO2 0-20%
Features
Latest upgradeable sensor technology
Measure up to 8 gases
MCERTS (pending) compatible with optional KANE GCU gas chiller unit
Wirelessly connect to optional KANE LINK enabled devices
Supplied CP2T probe, maximum temperature 600°C /1112°F. Optional high-temperature probe available
Optional Sensors
NO Sensor 0-5,000ppm
NO2 Sensor 0-1,000ppm
SO2 Sensor 0-5,000ppm
H2S sensor 0-200ppm
Application
Commission and service industrial boilers/engines
Install and service industrial oil & gas appliances
Combustion performance checks
Combustion efficiency checks
Flue draught
Kane Link
All standard Kane 458s, 958 & 988 analysers now include the Kane Link feature as standard. With Kane Link enabled, wirelessly connect devices to your analyser and balance heating systems, check A/C units & kitchen fans or test rooms for CO. Kane Link-enabled instruments include:
Kane 988 FGA is supplied with KANE LINK wireless module, O2, CO, HC and CO2 sensors, and a 2psi pressure sensor supplied with a pressure hose and CP2T combustion probe, CU12VDCA21 charger, 20106 backpack and MSC00017 handset pouch.
Probes & Accessories
CHSP5 285mm high-temperature 1100°C/2140°F smoke PTFE lined probe with removable shaft and 4 metres neoprene hose
CHSLP5 1 metre professional high-temperature 1100°C/2140°F smoke PTFE lined probe with removable shaft and 4 metres neoprene hose
KMCE10 10 metre hose & thermocouple extension
KANEIRP-2 Infra-red printer
SM50038 Replacement water trap