The Kane 958 Flue Gas Analyser is supplied with Carbon Monoxide and Oxygen sensors; the purge pump protection prevents accidental damage to the CO sensor.  Wireless capability is standard, with connectivity to optional KANE LINK enabled devices.
Measures
O2 0-21% ppm
CO 0-10,000ppm H2compensated
Differential temperature
High accuracy differential pressure meter +/- 160mbar
NO 0-5,000ppm (option)
NO2 0-1,000ppm (option)
High Range CO 0-10 % (option)
SO2 0-5,000ppm (option)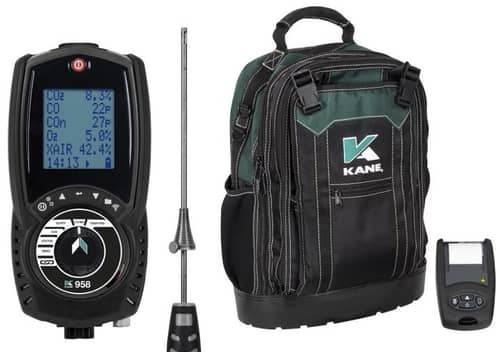 Parameters calculated
CO2
Excess air
NOx (option)
CO/CO2 ratio
 Combustion efficiency
Features
Rotary dial & 6 line display
Data hold, log & print with user details to optional printer
Combustion – Pressure – Temperature
Worklight
Hydrogen (H2) ready – up to 20% blend
MCERTS (pending) compatible with optional KANE GCU Gas Chiller Unit
Application
Install and service domestic oil & gas appliances

additional sensors to suit applications

Commission and service industrial & marine boilers/engines
Safety checks – CO in rooms or around appliances
Combustion performance checks
Combustion efficiency checks
Flue draught
Fuel Types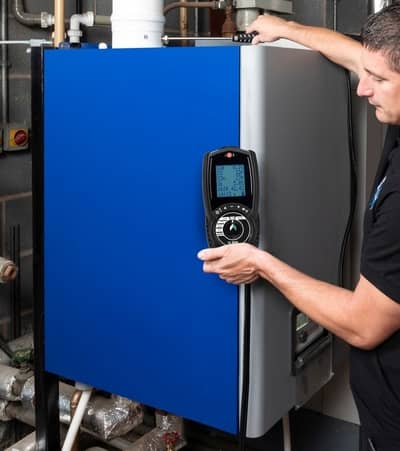 Natural Gas
LPG
Coke
Butane
Light oil
Propane
Biogas
Heavy oil
Coal
Wood pellets
Order Information
KANE958 FGA with KANE LINK wireless module, direct CO & O2 sensor over-range protection, CP2T combustion probe, 2 psi pressure sensor & pressure hose & USB1 charger.
KANE958 KIT As KANE958 plus KANE-IRP3 infra-red printer & 20106 backpack.
KANE958 PRO KIT As KANE958 KIT plus, GLD leak detector, KAL1 general-purpose temp probe, 2 x KPCP2 clamp-on pipe probes &14102/2 large carry bag replaces standard carry bag.
KANE958 OIL KIT As KANE958 KIT plus KANEMSP manual smoke pump with chart & SP9 smoke papers, 18121 oil gauge kit incl 300psi pressure gauge & 1.5bar vacuum gauge, vent fitting with stopcock, flexible connecting hose, 1/8" & 1/4" adaptors.